And here it is October! Well, it was too hot when I took my last week off, so I didn't get anything done. So I took last week off and I still didn't get anything done. But we have another springer! He is a 7 year old neutered male that did not do well with a new baby at his old home. We drove to Maryhill on Wednesday and picked him up. It's still a little too exciting around here, as Loretta doesn't care for him. But we are all managing.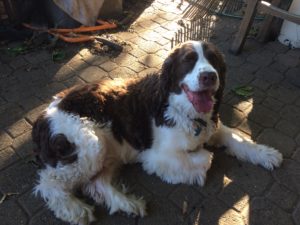 The outside of the house has been painted. We are working on the trim out front. The plan is to paint the shed next. We have about a week of nice weather before the next storm. Really want to have that outside work done. We also have the trailer here, so we can take a load of yard debris  to the dump. The soil has been too hard to work, but hope to plant a bunch of bulbs and plants soon.
The place we wanted on the coast is pending sale. It's sort of a relief as I just don't think the house would have worked out for us. It's weird to have all the living quarters on the second floor. But, if it doesn't sell, I feel certain Lon would try to put in an offer. We'll see what happens. If we can get this place on the market, I think it will all come together quickly.
I am really glad to have the cooler weather. I keep forgetting to wear a sweater, but it's still nice. This is the first year that I haven't been able to take the heat at all. It just completely knocks me out. We had smoke from the Eagle Creek Fire and the usual pollution too. I just didn't do well with it.
I've been knitting a lot, mostly socks. Quinn came up with Abby for his birthday and we had dinner together. Was nice to see them. I don't know how much longer we will be working on the house. We just haven't been able to get a lot done. I still have painting to do inside, but that can be done even in bad weather. I'd like to finish it before it's so cold that we have to shut up the house. I have the office partially cleared and would like to do it first. We have such a list of things to do on this. Still we make progress even if it's slow.