It's been a long week, as they pulled the plug on George and he died on the first. Since he was caretaking our other place, there's a lot of issues to sort out. We have temporarily stopped work on the house and are working on an office trailer that we need to sell. My office has been torn up for three weeks now. I need to do some touch up on the paint and we need to put in floor boards as Quinn missed about half the room. But, I had to move in some treadles as I just couldn't take it any more.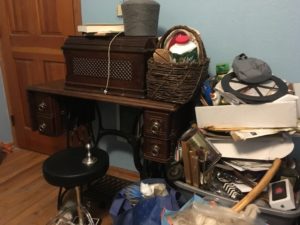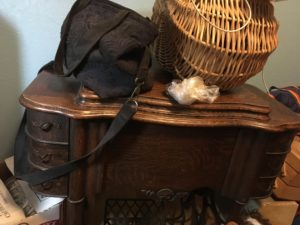 It just feels better to have them in the office again. I managed to pop a capacitor on the Viking. Was interesting because I was sewing along, heard the pop and saw smoke, but it kept sewing with my foot off the foot controller. I pulled the plug and shut it off. I've read that this is not a critical piece as it's designed to prevent interference from the machine. I am going to pull it and see if that's true. I think I am going to find someone that wants it. I've played with the cams a bit and it's a good machine, but I just want to use the simpler machines these days. After spending time lifting my full sized, heavy machines, I am starting to wonder if I shouldn't hang on to the 3/4 sized ones. I am pretty sure that Singer 28 head I have was a hand crank at some point. It has hinges instead of those heavier pins to connect to the treadle base. That White VS is another candidate for a hand crank. I could put my 99k in that spare treadle base I have. Just not sure what to keep yet. I have my core four (Singer vs, 127, Free and Davis) and a couple of heads to keep. I do want to keep the Necchi and keep working on it. Am not sure which other machines to keep. I am thinking about keeping the Singer 237 as an electric. Mostly, I really want to spend some time and cut out quilt blocks so I have something to sew. I managed to find my cutting board and ruler, so I am ready to cut.
And I picked up these: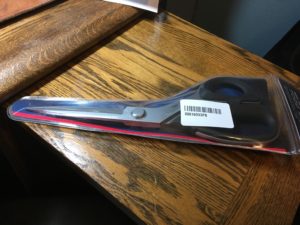 These are Kai 10″ Professional shears. I have been using Fiskers and thought I should get a good pair of scissors to replace them. The reviews on these were great. I haven't used them yet, but will write a full review when I do.
And, just to add some sort of animal picture, this is Gary. He loves being my office dog. The only problem is that he gets possessive of the room and has growled at Lon for coming in. So I have to trade off, so that he knows he doesn't own this room. He is a sweet dog and is getting better about sharing.