I am not getting pretty stitches from my Necchi. I just asked the Facebook forum for help. It still needs to be thoroughly cleaned. It looks like the needle bar wanders over from the central position when stitching. I have tried to sew a little on it every week, sometimes daily, so that the oil will penetrate and start to loosen it up. I think I've sorted out the tension issues. I like the machine and want to use it for projects. The Singer 237 simply makes better stitches at this point.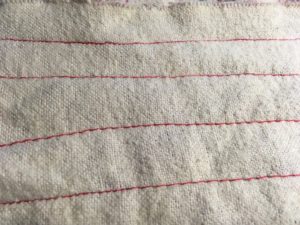 In other sewing machine news, I picked up a shuttle and bobbin for the New Home. It's still missing the faceplates, but I should be able to test it out. I will likely try and find a new home for it. I ordered a shuttle for the White vs3. I will still need a bobbin, but understand bobbins and shuttles are hard to come by for this machine. I decided to pick up the shuttle while I could. I'll clean it up and make sure it runs, then find a new home for it as well.
I am having my office painted at long last. It was Quinn's room and an awful dark blue color. This is a lighter blue and really makes a difference. The problem is that I have to move things out of here and I work in this room. All the treadles were moved out yesterday but half the room is still full. I am going to shuffle things around. I think I can use my library table as a cutting table if I get all the stuff off it. I just have too much stuff out.
And that brings us to Plan B…we have talked about where we want to go when we sell this place. We look at houses and sometimes Lon finds one that he really, really likes. We do some planning about what it would be like to live there. But it's taken too long to get the house on the market and the place sells to someone else. We have a new plan B and it's a very interesting house. It's been on the market for close to two years, so we might have a chance at it. I would love to get this place on the market by spring but it all depends on finding help to make some progress. We have the help of one of the best guys we know right now and he can get a lot done when he's not working. Would be so nice to be done with this part.
And last note, our friend George, who watches over our other place, had another heart attack last week. They didn't think he'd make it to Monday but he is still hanging in there and making a little progress every day. If he lasts another day, they will take him out of the induced coma. George has been a real challenge at times and there were periods when we didn't want to see him again. Since the first heart attack, he's been making an effort to do right by his friends. I hope he makes it through this. He still has a lot to make up for. And please, if you aren't married or in a legal relationship, do a living will. His partner has been through a lot because the hospital has to let his adult children make the medical decisions. She's been there for him when they weren't, but she has no legal standing.