Most of my updates have been on the Spindlitis list (and not much there either.) We are just battening down the hatches for winter. George came out and helped with the yard cleanup. We still need a dump run to get rid of it. Weekends have been slow and lazy. I've been doing a lot of spinning, but now am on a knitting kick. I need some lightweight warm clothes for this time of year. The things I have are for much colder weather. I've tried to finish up my knitting projects for other people. I don't plan to do any Christmas knitting this year.
I'm going to take Election Day off. I've volunteered to work with a conservative blog. They are trying to get a system of volunteers to pull together election results, with an eye towards calling races faster than anyone else. I'll be working on the East Coast elections. The more I thought about it, the less I wanted to be distracted by work that day. So I'll take a break.
I have still been stocking up a bit. It makes it a lot easier to get from check to check. I really don't like shopping of any kind. There's no organization though, so I sometimes have problems finding ingredients. I'll have to work on that.
Petey, my polydactyl cat is still in poor health. I think the only reason he's still going is the steroids. I've been giving him a small dose of my pills and it helps him breathe. I am running out of pills and I suspect that my pulmologist won't give me more meds for my cat. As long as he seems to get around okay, I'll try and keep  him going. He's terribly thin, despite eating many times a day.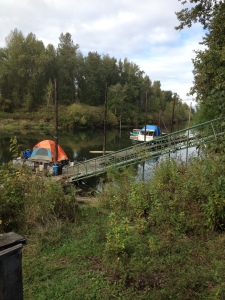 Picture of the river from last week, before the rain set in. Water level has been very low.