I wanted to show the process for grinding grain with a Kitchen Aid grain grinder. The first few times I tried to use it, I tried for a fine grind and had the speed on low. It didn't work very well. I went out and did some research on how to use it and found that I should be doing multiple passes on high speed. So this was my first try at it. I used Wheat Montana's Bronze Chief wheat. I also used my wild caught starter (which I mix up with bread flour to sit overnight.)
Grinder in use. It should be on the coarse setting at high speed.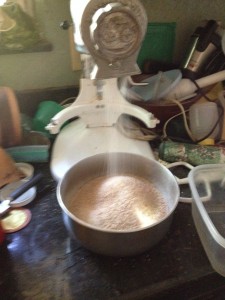 This is what it looks like after the first pass. I'd call this graham flour as it's pretty coarse.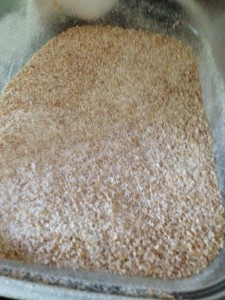 Another view: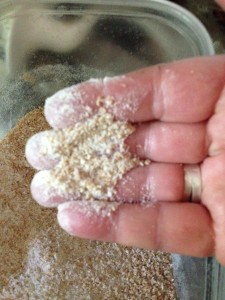 This is the second pass. I turn it to the finest grind and run it back through. Check the machine to see if it's getting too hot. If it seems to be, you may want to do three passes.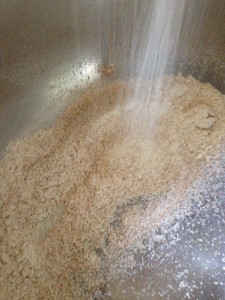 Another view of the finer grind: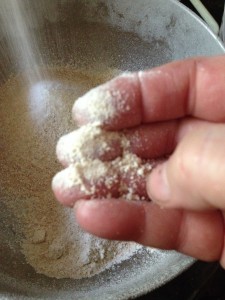 This is two pint jars of wheat kernels, ready to use.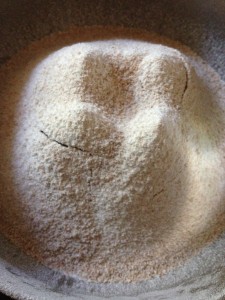 This is my first rise. I just use flour, salt and water. I use the dough hook to knead the dough, then let it rise in the bowl for around an hour and a half. Then I move it to the Dutch oven and let it rise again. I bake this at 450 degrees, covered, for fifteen minutes and I usually splash a little water on top of the dough before baking. I drop the heat to 400 degrees and finish it uncovered.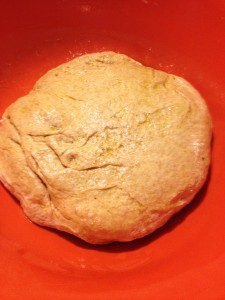 It's tasty, but didn't rise as much as I'd like. I think I will shift it next time, to make a lighter flour. And I might let it rise in a warmer area. Every loaf of bread turns out differently. I have some hard white wheat that I want to try next. And I want a big old sack of spelt. I really like spelt. I know that some folks are truly gluten intolerant, but it does not seem to bother me. One loaf of real bread gets the two of us through the week. We usually split a slice, since they are fairly big. I don't think I would ever get tired of making bread!