Okay, so I have been terrible at updating my blog. Hey, I still haven't sent sent stuff off to my aunt yet and that's been ready for a couple of months! Just the usual busyness. I took a week off in October with many plans and did nothing. Had a nice Thanksgiving, just for the two of us. Still need to get moved and have not made much progress there. Jake is still a crazy dog and we are trying to get him to settle down. Love him to pieces, but he just doesn't listen.
We had a nice dry spell and now are catching up on the rain. Picture of it at the river. I'm told it's much higher today.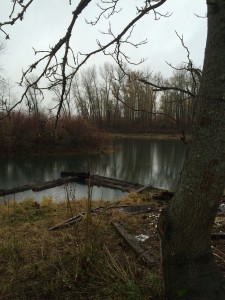 We both have new computers from Free Geek. Lon has a Dell Desktop and I have an older Thinkpad. Running Linux Mint on both. The Mac has some power issues. And, to be honest, I'm tired of old Macs. Have used them for a long time, but I'm just done. I can run most of the Windows programs I need in Crossover. And it's nice to have a modern browser again. Lon's computer was just junk. I'd replaced the motherboard, but it was problematic. I have to run KDE desktop on it, but it's definitely better than what he had. Some days, I just get tired of messing around with this stuff. I want a garden this year.
Will try and update before the holidays hit and that's not far off!