Lon and I have talked about getting married for several years. When one of our Coot friends, Jim Ballou died suddenly last year, it seemed like it was time to get married before we lost any more of our friends. We are not getting younger! So we chose June 20th, which is the day we normally hold a Messabout at our place. The wedding planning did not go smoothly. Lon wanted to get married at the river place. We were trying to get things cleaned up from the previous tenant and make the place look presentable. We had a family argument and it seemed like it would never come together. I kept reminding Lon that it was a party and a celebration. That would be what would matter most in the end. I'll be adding more pictures as they come in. Most of these were taken by Vicki Parker. She and Dan Walker made wood fired pizza for the party.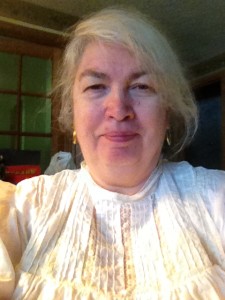 Wedding selfie. I used the Folkwear Gibson Girl Blouse, with lace inserts from a nice Ebay seller in Ponca City, OK. I used some lightweight linen and also used the Walking Skirt pattern in heavier linen.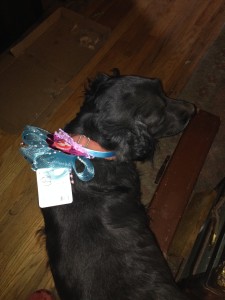 Loretta was not at all happy with her headband. She was well behaved at the wedding. I did have to feed the two cats at the river to get them to stay away.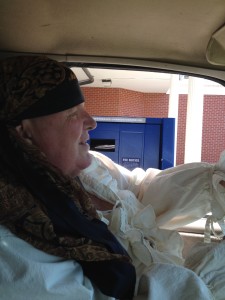 We made a quick stop at the ATM and headed on our way. Andrew, who presided over the wedding, wanted a nautical theme. What could be more nautical than a pirate? I ordered Lon's vest from Majestic Velvets and they did a rush to get it to us on time.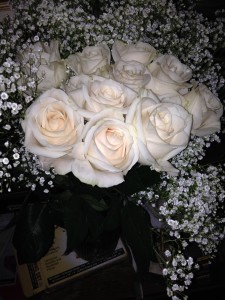 I wanted a few nice flowers, but decided against a bouquet.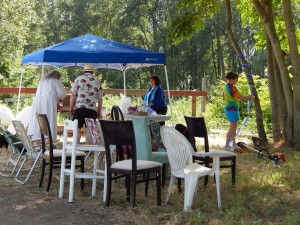 Getting the tables decorated for the feast.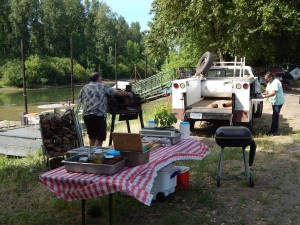 Dan and Vicki made delicious wood fired pizza.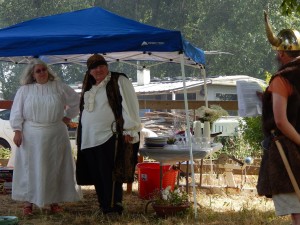 We waited while Andrew read the first part of the service. He had helpers.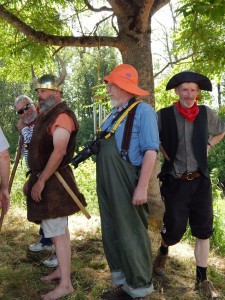 Nautically inclined! Too bad the water was so low at the river.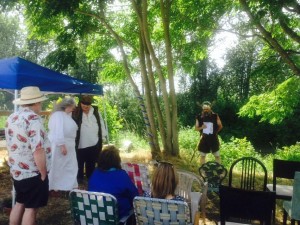 Time for our entrance.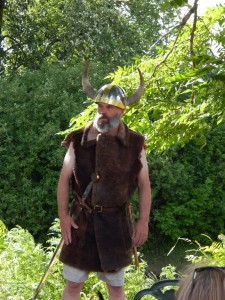 When this guy marries you, you stay married! Thanks, Andrew!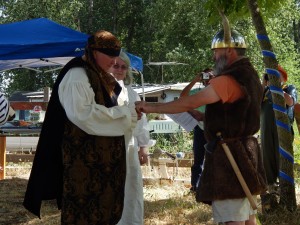 We decided to use my mom's wedding ring. I'd worn it for a bit, after I'd worn out my original wedding ring, but it wasn't a ring I used at my first marriage. This time, it's my wedding ring.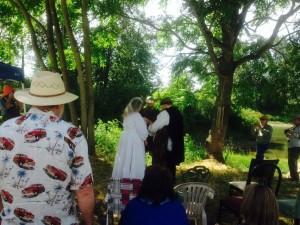 Hard to believe, but it really did happen!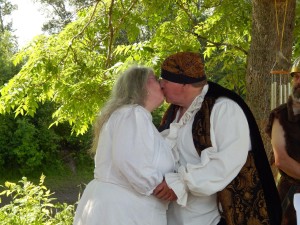 Share a kiss and it's done.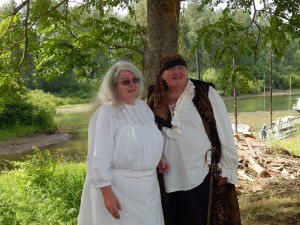 Until we get the official pictures, this will do.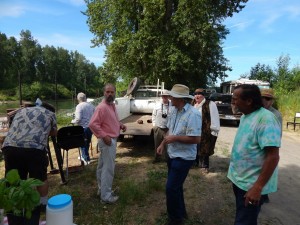 And the Coots doing what they do best, telling tales and eating pizza.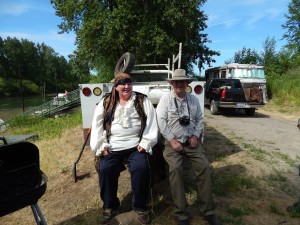 And finally time to relax. Thank you to all that attended, especially Cathy from work, Dave and Terry for helping with setup, Jennifer for also helping, Dan and Vicki for the pizza, Quinn and Shanna, and to all the Coots.