It's the holidays and I don't want to spoil it for anyone. But Petey, my old polydactyl cat is dying of cancer. He doesn't have much time left. He's down to skin and bones and today, he doesn't want to eat anything I offer him. And I tried everything I could find from the store. So I wanted to write my post now, before he goes.
I got Pete from the Humane Society. I lied and told them I didn't have any pets, because I didn't have licenses for my animals. I wanted to save one cat. They had a large multi-caged area with kittens and Pete was just one of many. He kept tapping at the cage, and giving these short little meows. I asked to see him. And I told him that he had no idea what he would be getting into, with multi-animal household. He let me know that he was ready for anything, so I took him home. From what little I know of him, he was found loose on the streets. He is a polydactyl, with six toes on each front foot and seven on each back foot. He has one fused, double claw on his front foot that can't be retracted. I named him after Pete Townsend, for his jumping ability.
Jeffrey and I used to joke about him being an alien from outer space, sent down to learn about humans. He is a character and really did seem to be studying us. He loved to get on Jeffrey's shoulder for pets. Lon tells me that Pete will visit him at night, after I've gone to bed. Petey has always been a very vocal cat. Even during his illness, when I get up in the morning, he makes sure I know that it's time for breakfast. He took care of Jack as a kitten, although they have sort of a love/hate relationship now. When I lived in that unheated trailer, Petey would join me under the shawl on top of my covers and stretch out in the warmth. He has always loved to be covered up under a shawl. It's strange for him to turn his back on that now.
It's been about a year since he had what I now believe was a stroke. He was circling when he walked. The vet wanted to run tests, but I convinced him that it was an inner ear infection. He got steroids and stuff for his ears. I was not happy with that vet. He acted like I would have a problem giving Petey pills. Petey has never hurt me and I had no problems at all giving him meds. In fact, I shared my prednisone with him and I think that is why he lasted so long. I did decide that he will die at home. I'm not taking him into the vets' again. And so it has gone, with him getting thinner and thinner. It is painful to watch of course. He truly is a shadow of what he used to be. But he is at home in familiar surroundings. And he will be with me until the end of his life.
Black cats are hard to photograph, so I don't have any many pictures of him as I'd like. So here are a few attempts to capture the cat that preferred to be in motion.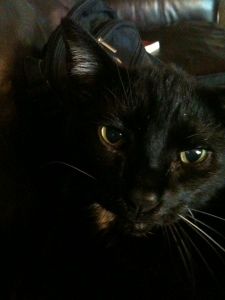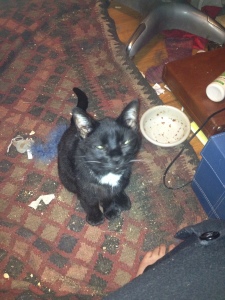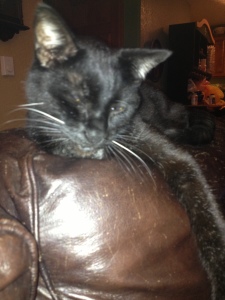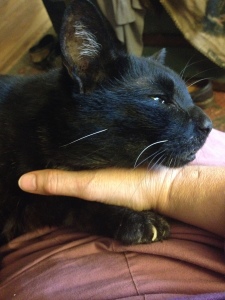 UPDATE: Petey died Christmas morning. I think I checked him right before he went. He'd manage to make it to the kitchen, ready to ask for food one more time. He's been buried in the back yard. RIP, Petey. I'll miss you.