So we had a major wind storm yesterday. We were in Portland when it happened and it was blowing leaves up and down the street in a very impressive way. After many years in the Gorge, I am not usually impressed by wind in Portland.
The house is fine. But things were not so good down at the river. George had some heavy plastic over the top of the Aqua Home and it was acting like a sail. The boat was listing heavily towards the dock, so George managed to cut the plastic loose. The main trailer and the travel trailers were fine.
The old chicken house was not so lucky: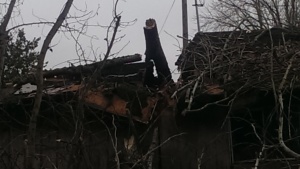 We also had damage to the pump house and something hit the top of the power box. The power was off last night, but we had them shut it down at the river for now. We will need to replace the power box and make sure the electric cable to the trailer is repaired. It will need to be inspected first, of course. George has a small generator to use, so they are managing. I'm just glad no one was hurt.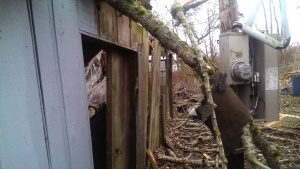 The other nice thing..George had recovered my old aluminum canoe. It had been stolen, and I was happy to get it back. I had some good memories with Jeffrey in that canoe. The canoe had been in the wire portion of the chicken house, but he'd moved it outside in front of the trailer. It wasn't damamged, but it would have been in the old spot. We'd planned to rebuild that chicken house, and now I guess we will really need to do that. But first, we need to get the electricity back up.