I made one more trip. I picked up a Minnesota K, plus treadle. The treadle base needs work and it's missing the drawers. The head needs to be put back together. I picked it up so that I could make a treadle base to use with one of these other machines. I could use it for the Singer 66 and my new to me Singer 237.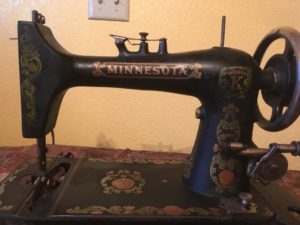 So let's talk about the Singer 237 Fashion Mate. I had a list of machines that she was selling so I started researching them. I would never have considered this machine. It's too modern and reminds me of when my grandmother was buying newer Singers. But, there were posts on the internet that spoke highly about the machine. It has a plastic piece on the top and front, but the parts are metal. It does straight stitch and zigzag. The instruction booklet for it actually mentions the model sold on a treadle base. So I picked it up.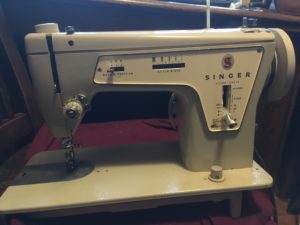 I needed to put some pieces back together. It seemed to turn okay by hand so I powered it up. It seemed to run okay but I couldn't get it to zig zag at the widest stitch. I checked and found that the needle had fallen down and wedged against the bobbin case. Moved that and every thing works fine. I still want to go through it and will try sewing on it this weekend. It could be a nice FMQ machine. You can lower the feed dogs and it will use the same darning foot that I have been using on the treadles. I still think it will work better as a treadled machine, so will try that and also try the Singer 99 for FMQ. This machine will be a keeper.
I picked up what I think is a White VSiii. Someone put a hand crank on it. It does not have a shuttle or bobbin, which I understand are hard to find. I think I will likely find a new home for this one.
And the last one was a gimme as I was leaving. Unfortunately, I think this one needs to go to the crusher. It's a very heavy Morse straight stitch. Her daughter accidentally dropped it and broke off the bobbin winder. That's not a big problem. What we didn't notice is that it bent the needle bar badly. And the machine is locked up, which means there could be even more damage. It's one of the heaviest things I've ever seen. I might offer it up as a free parts machine but I just don't want to mess with it.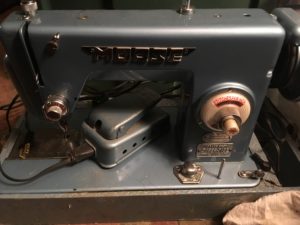 So that's the latest and hopefully last update on new machines for awhile. I want to mess around with the Necchi some more too. I've ordered some scrap fabric. It sounds bizarre but I really don't have any scrap to use for quilting. I have a couple of new quilting books. And I have an idea for a project. I'm starting to learn FMQ and have been making pot holders out of my practice pieces. The problem is finding time to work on this. We have our annual Library Messabout at the Portland library tomorrow. One of the members will talk about sailing his wooden sailboat to Hawaii. Everyone gets together and looks over old boating books from their closed stacks. It's usually a nice time and I can look through the library for books to take home.
Also, more progress on fixing up the house. We had a friend finish repainting the main bathroom. He did a walkway in the back yard out to the shed and finished up some of the painting out front. He isn't working right now, so we want to hire him to help us finish this place up. I will have to find a way to move everything out of this room so that we can paint it, which will be a major deal. I might take a day off for it. I have a seed order in. I don't want to plant much but would like a few tomato plants. I can always hope that I'll have a real garden. I did manage to make it to the staff meeting this week. My O2 levels have been great. It still wears me out and it takes a couple of days for me to recover. I still feel better than I have in years.
I forgot an important piece of news. I signed up for the Ray Elkins sewing machine repair workshop in July. I am really looking forward to it. The problem will be finding a machine to work on in the class. If the Necchi still needs work, I could take it. I suspect another machine will turn up before the class.