We had a nice Christmas. Quinn and Abby came by for a visit. Lon will be a grandfather in July! We are both happy for them. We opened presents while they were here. Lon had already given mine to me. It's a suede purse, with Free Motion Quilt work by Tim Latimer.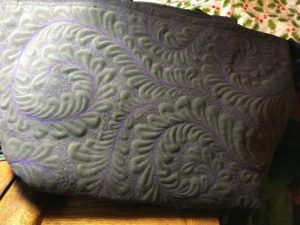 Tim is known in the quilting world for his hand quilting and work with treadles. The purse is nicely made and looks even better in person. I managed to get the Davis sewing, which took some time to sort out. I haven't had a chance to use it much. I will probably work with it this weekend. I have a FMQ piece that I am playing around with. Would like to try using the Davis for the binding. Since I had a spell of the sewing machine itch, I have still been reading the ads. I decided I wanted a Necchi. They are well liked and I've never sewn on one. I found a Necchi BU that I wanted but the seller flaked out on me. Then a Supernova came up and I jumped on that one.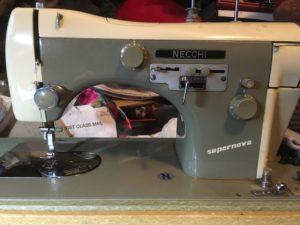 I was able to get it to stitch, after some work and help. I have a set of cams for it, but the camstack seems frozen. That's going to require a bit more work. I really don't care about having the cams, but do think that part of the machine should work. I like having the high and low speed switch. I think this will be a keeper, once I get it all sorted out.
When I picked it up, I also picked up this: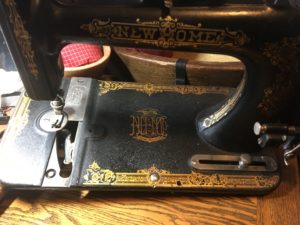 I have no idea what I am going to do with this. It needs a shuttle and I don't have a treadle base for it. I will probably try to find a better home for it. It moves smoothly and I think it would sew just fine.
And, this weekend, I was given a Singer treadle base. I don't have anything to fit in it right now, but it's a nice base. I will not let it be turned into a table.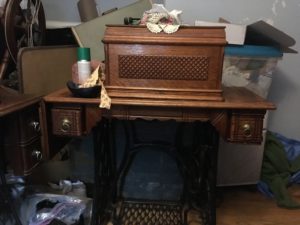 I did a little practice Free Motion Quilting this weekend. I used my Singer VS2. It went pretty well. I think I have an issue with that shuttle and that's when I had to stop. It was going pretty well before I stopped. I will try and do some of this every weekend.
And finally, I think we are both finally getting over this cold that has dragged on for weeks. My voice still sounds pretty rough, but I'm not coughing like I was and my O2 levels are good. So nice to be able to sleep on my side again.