Finally managed to take a few pictures of the goat kids. It was somewhat intense sun for us, so they are a little washed out.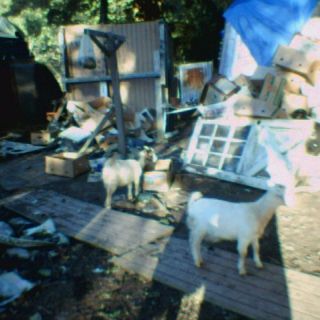 Scamper kids
Notice that this part of the yard is in serious need of a cleanup. I have plans for a dump run next month and we will finish taking down that partial shed then as well.These are the kids I call the fairy goats. They are not much taller than our puppy, Loretta. They were born in January and I think that is part of the reason they are so small. The mom, Scamper, is not a big goat and I doubt they will be very big. The front kid we call Suzi. The back kid is the wether, Gee-Bee.
Maddie's kids
These are Maddie's two kids. She's sort of at the back of the picture. They're pretty well mannered. We don't have really great names for these. The wether we call "Eyebrows" because he has an eyebrow shaped white spot on his forehead. We call the doe "Skunk-head" because of a larger white blaze. You can tell Jeffrey came up with these names.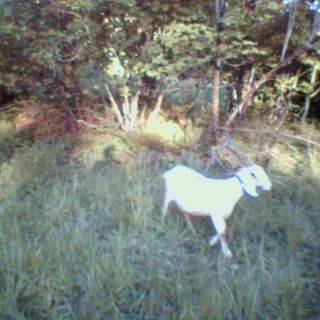 Lily on the move
This is Lily, one of the orphaned kids from last year. We love her and Ragnar, the brother. They are so nice to work with. I think we are going to go with bottle fed kids from here on out. Lily is sort of a hillbilly goat, as she was bred by her father this winter. We moved him in during the height of the snow to add to the heat in the shed. Guess there was a bit too much heat. We will probably not keep her kids as a result. I am hoping she comes through this first kidding okay so that I can finally have a milk goat again. Her bag is developing nicely. I guess we'll find out how it goes in the next month.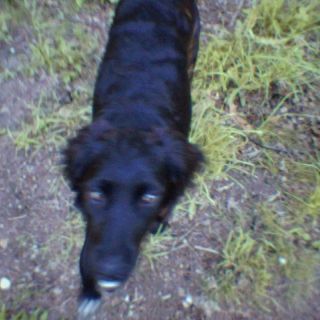 Loretta up close
It's sure hard to get good pictures of young animals. It's amazing to us how much Loretta looks like the golden/springer cross we used to have, in this picture. She's such a good puppy.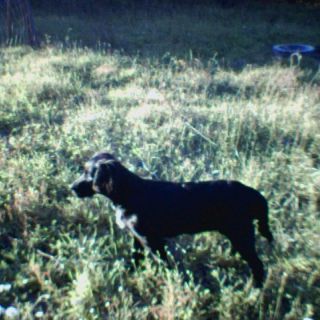 Loretta posing
This is a slightly better picture. She's still growing but I doubt she will be as big as Wallace, our lab.