Really had no idea I'd gone so long without a post. I did buy the full size Midori. I like them both but can see the larger size is more useful. I have had some fun pasting some neat paper scraps on the inserts. Ah, inserts, I've already bought too many of them. And I'm onto my second Pilot Metropolitan pen. These are really great inexpensive fountain pens. I like the fine nib and they write first time every time.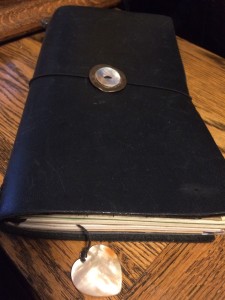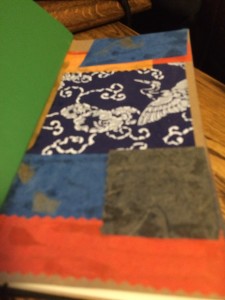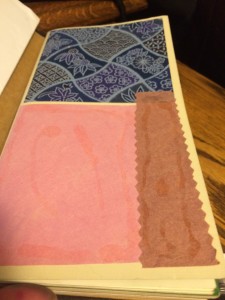 Pretty much the same thing around here. I am going to a naturopath. I have been feeling better in some ways, but had had to use the predisone for too long. I just haven't been able to get off it. If the weather would warm up for awhile, so we can open up the house, I might manage to taper off. I came down with a bit of the flu and missed a couple of days work. Have been coughing since then.
The neighbors did some work on their fence and didn't tell us that they'd taken down the mesh that was on their side. The fence is in sad shape, old cedar and there was a hole which Jake promptly found. It was dark and a bit scary but we did find him. He hopped right in the truck. We got some material to fix the fence and he managed to get out during the daylight. Lon was able to find him but has not been happy about it. I think we have the hole patched and will try to do some more work this weekend. Doesn't he look innocent?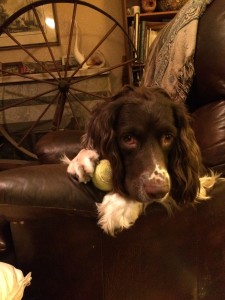 And finally a picture of Loretta! It's so hard to get a good picture of a black dog.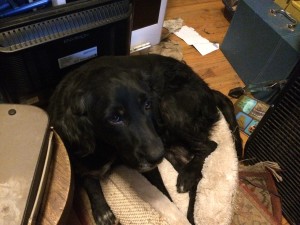 In non-dog related stuff, I have been helping out at the Decision Desk. It's at decisiondeskhq.com. It's a fun project. Folks volunteer to help get election results and we try to scoop the AP. It's been entertaining and I enjoy it. For the record, I am a Trump supporter so go ahead and hate 🙂 I somehow have been working elections where he has lost, so was nice to do one last night that he won. Should have a couple of weeks to work on some of the other bits of this. We pull historical data into spreadsheets that is used to analyze the elections. That's fun too. I won't give away any trade secrets here, but it is an interesting group to work with.
Still trying to get moved but not much on that front. Finally have the truck running like it should. Ah, I wish the rain would stop and we could have some more sun.