I won't have this one until next week though, so will wait to add pictures. I'm getting a Singer handcrank, 1892. I have this Singer that I'd thought about turning into a handcrank: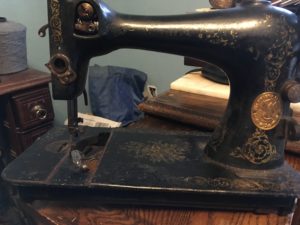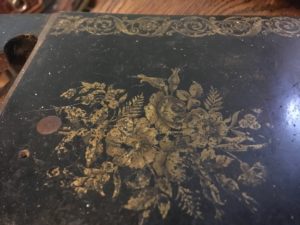 Then I discovered that the bag of parts I have does not really seem to go with this machine. I could make some of them work but it will require more parts. I plan to keep this machine and have a treadle base that I could use with a little modification. And then I found a hand crank on Ebay that I fell in love with and that is that. It has an interesting set of decals.
I want to start a quilting project. The problem is that we are still getting this house ready to sell. There are things I can't find. I had the idea this morning of doing quilted potholders. Appleturnover.tv on You Tube has two tutorials doing these. I thought I could do one on each machine, start to finish, and label which machine I used to make it. It would give me a chance to get a feel for the machines I haven't used as much. And these are small projects, quick to finish. I've been buying scrap fabric from Ebay, and I have some batting that I used on my free motion potholders. I think this could be fun. I discovered the other day that my new cabinet works nicely to cut quilt pieces: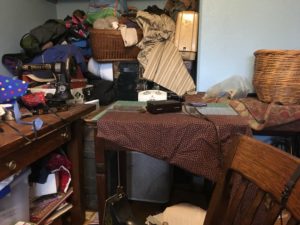 Finally, here's a picture of old seldom seen, Loretta. It's just hard to get a good picture of a black dog. She is a good girl but has really slowed down over the last year. She is a rat/mouse killing machine though.