Some pictures of the iBook: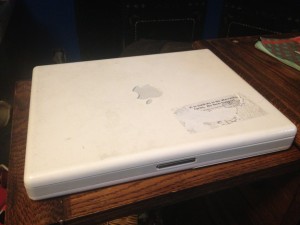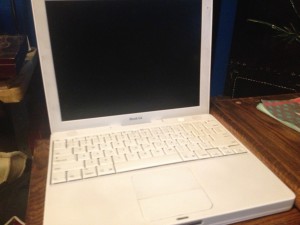 It's been holding a charge and I've ordered a hard drive. It is a major task to install a hard drive in this. I'll have to strip it down completely. But I think I can do that and it looks like it will work as soon as I install the operating system.
My ThinkPad has been good to me, but it really does need some work. This will give me something else to use. I'd like to pick up a copy of Leopard and upgrade both my old Macs. I'll upgrade the RAM in the iBook too, as soon as I know it's working again. Old laptops can be very useful. If all else fails, they make good writing machines.
UPDATE:
I installed the hard drive and Tiger. It's working BUT….it had a date/time issue then wouldn't boot at all. I did a lot of research and found that there is an issue with the graphics chip in these. So I took out the battery and let it sit all week. Took it into the office today and plugged it into power. It booted up! I've read that the case flexes too much on these and causes the solder to break up under that chip. So I will be using this one only on a hard flat surface. Here's a picture: