If there is one thing that I do not need, it is another cat. I have cats, many cats. I love my cats, but at some point, you have to say that you have enough. Having three cats on your lap while two others circle around, waiting to come in for a landing is a bit much. (And no, I do not have just five cats.)
But…..my boyfriend's sister has a puss cat from the family Scottish Fold line. I guess my boyfriend picked one up and then Davey wound up with one. The cat kept having kittens by a Maine Coon cat and they either were not folds or were males. And my boyfriend wanted a female. Now, I have always taken my cats in to be fixed and don't advocate bringing more kittens into the world. We took two fold kittens from her, both males, and I've yet to get them fixed. That is now a priority because I have this: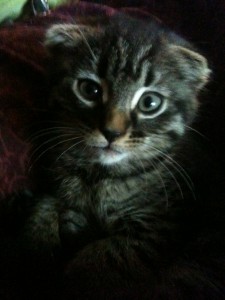 This is Fanny, out of the last litter for Davey's puss cat. She finally had her fixed so there won't be any more kittens. Davey wanted me to have her and so I do. The good news is that she is a very smart kitten. I've been around many cats and this is one of the smartest ones I've seen. Scottish folds should not be bred back to other folds as they have genetic issues from being too inbred. This is going to be bad news for the two boy folds. For now, I am enjoying having a kitten in the house again.
We had the Messabout last weekend and I will post pictures of it on the Quinns Cove blog. It was pretty small but it was definitely nice to see the guys again. I wore a long sleeved shirt but still was badly bitten by the mosquitos. We still do not have a boat that we can take out. We have another project boat, which has me hopeful. It's a wooden row boat, that can be used with an electric motor. It needs to be painted and we are going to tackle that in the next week or so. We have an electric motor so it's a nice fit for us. I'd like to be able to row a bit.
As far as other updates, we have now been on the Paleo diet for two months. Lon has lost weight, but we don't know how much yet. He is starting to get back into shirts that he hasn't been able to wear for awhile. I've lost some weight but think I'm starting to stall already. I have to keep my carb count really low to lose weight and it's cherry season. I've been keeping my portions small, but will probably have better luck losing when I can cut out the fruit. I've been freezing raspberries from our bushes and am planning to freeze some blueberries and cherries for later on. And I don't really have a garden again. I want to put a small grow box or two in the back yard. I'd like a fall garden so I can grow some Asian veggies. We use those a lot these days. It just doesn't seem like I get a lot accomplished.