Like I said, I've been on a pen kick lately. I bought a Noodler's standard flex, then a Lamy Safari. My most recent purchase is a Noodler's Ahab flex pen, which just came in yesterday. Here's the collection (along with a Wing Sung.):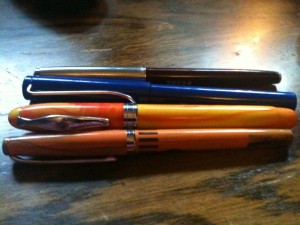 The small orange pen (poltergeist pumpkin is the color) is the Noodler's standard flex. The large orange (Arizona color) is the Ahab. The Lamy is blue and the maroon pen is the Wing Sung. Here's another shot of just the Noodler's pens: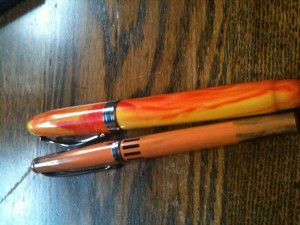 Since I'm taking pictures with my iPhone, I can't get those luscious close ups that you see on some pen blogs. I am enjoying the flex nib pens, although I've not yet figured out how to get the full flex from them. I love the size of the Ahab. It's closer to the size of my old Schaeffer and much more comfortable than the smaller diameter pens.
Along with my pens, I ordered 14 samples of ink. (I ordered this time from Todd Nusbaum of isellpens.com). Most are Noodler's with a couple of Herbin colors. I did a few of the orange colors yesterday in the new pen. This are not very detailed tests. Here's the Ahab loaded with Noodler's Antietam on Moleskine: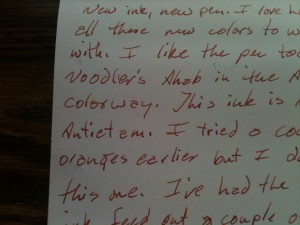 Of course, I want to try all of it NOW! I believe I write better with fountain pens and I have a lot more fun with different inks to play with. Ink samples are very inexpensive and so are the fountain pens in the picture. It definitely brighten up my day to get my new toys.