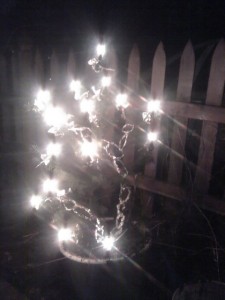 Well we've made it through Christmas. Like many folks, money is tight and we really weren't able to buy much. The grandson was off with his mom and it will be this week before he comes by to get his gift. Quinn did come by for breakfast Christmas morning, bringing a friend. We did not put up a tree or decorate.
But on Christmas Eve, Lon decided that we needed a tree. Earlier in the month, he'd gotten a small evergreen tree on Craigslist. It was planted in a bucket in the front yard. He had me pick up some birthday candles and aluminum foil from the Dollar Store. And he talked me into making aluminum foil chains that night. He made some aluminum foil candle holders. It was raining a bit, but we went out and put the candleholders on the tree and draped the chain on it, then lit all the candles. It really was fun and Lon proclaimed it the best Christmas ever. It was something he'd wanted to do for a long time.
Of course, the next day I got cranky over something and we had a minor quarrel. We made up again, because we do love each other. And what I have learned, more than anything after Jeffrey's loss, is that people are what matter most. And that is what the holidays are all about, taking time to honor and strengthen the relationships in our life.